It was about a month ago that Elon Musk said that Tesla is evaluating the conditions for the trial implementation of selling products in digital currencies. The publication of this tweet caused the price of Dogecoin to grow by 14% at the moment. Of course, it should be said that Elon Musk has been able to make the Bitcoin market fluctuate with this trick several times, and it seems that this time he wants to get volatility from Dogecoin. In this article which is written by Asiasignal experts, you will gain some information about Elon Musk signal.
Dogecoin; A digital currency that was made as a joke; But now with a value of tens of billions of dollars, it is seen in the top ranks of the digital currency market, successful people like Elon Musk support it and have plans to improve it. Iranian users of digital currencies are very interested in Dogecoin, but this interest is also very high among foreign users. The popularity of Dogecoin can be due to its almost good ranking in the digital currency market as well as its very low price, which makes many people invest in it with the dream of getting rich. But everything is not about investment; Some like this digital currency for its own sake and the purpose behind it.
Many consider Dogecoin as "home money" or "poor people's money"; Clean money, which its fans believe is really for the people.
Elon Musk, the CEO of Tesla and currently the richest person in the world, wrote on Twitter that Tesla is going to provide conditions for the sale of its products, including small electric cars, to Dogecoin.
Elon Musk, who is one of the biggest fans of virtual currencies in the world, once said that Tesla wanted to sell its cars for Bitcoin, but after a while, this plan was quietly abandoned. The value of Dogecoin has increased 40 times in 2021, and it was Elon Musk's tweets that made this virtual currency stand out.
Like it or not, there is always a lot of talk about digital currencies. Many of the comments made by celebrities, regardless of whether they are biased or unbiased, directly affect the fate of the market. In other words, here we are dealing with a powerful concept called Social Proof, which may change the willingness of many people to invest in various assets.
Social proof simply means that if someone you trust suggests you buy something, you are more likely to buy it; Because you trust his advice. Of course, this is also true about not buying assets. So, in general, it can be said that the social approval of famous and successful people works on the same basis. Dogecoin's incredible growth in 2021 is a great example of how celebrity social verification works. This year, many people invested in this Dogecoin according to Elon Musk's buy signals; While they didn't even know if his suggestions were serious or not. You can check Crypto VIP Signal to gain more information about crypto signals and the conditions of being a VIP member.
Elon Musk is not the biggest fan of digital currencies, but it is probably the most influential of them. His Twitter account not only influences the markets; Rather, it makes them. It is interesting to know that many people base their (automated) trading strategies on Elon Musk's tweets. He says about Bitcoin:
"The structure of Bitcoin is very innovative. Paper money is going away and digital currencies are undoubtedly a much better way to transfer value than a piece of paper. From my prospect, more ordinary people in the financial world are also widely accepting Bitcoin so soon."
Undoubtedly, digital currency is more affordable than paper money. In some Scandinavian countries, it is difficult to pay with physical money; Because they have almost replaced card payments with paper money. It remains to be seen how successful digital currencies can be in replacing these cards.
Elon Musk's claim that Bitcoin is gradually being accepted as a real asset in traditional finance and even in some governments. However, he says about cryptocurrency regulation:
"If they ask me, I say "don't do anything". From my prospect, it is not possible to destroy cryptocurrencies; But governments can slow down their progress."
This is a reasonable assumption. Many industry experts have expressed skepticism about cryptocurrency regulation, not because they have anything to hide; but because overly rigid regulations may stifle or at least marginalize innovation.
As you can probably guess, Elon Musk's most interesting and iconic quotes in this field are not related to Bitcoin, nor regulation, or politics; Rather, they are directly stated about Dogecoin. Musk says about this:
"In my idea, in many cases, the most ironic and interesting outcome is the most likely, and the most interesting outcome is that Dogecoin becomes the new global currency."
In another interesting comment, he opens up Dogecoin to his space technology company and says:
"SpaceX will send the Doge1 satellite to the moon by next year. The cost of this mission is paid by Dogecoin. The first meme sent to space, to the moon!"
These two sentences are just two examples, and Elon Musk's influence on the Dogecoin market is not hidden from anyone in the crypto world, but it remains to be seen whether Dogecoin is the first cryptocurrency to go to space or not! For more information check Crypto Signal Leaks to gain more from Elon Musk signals.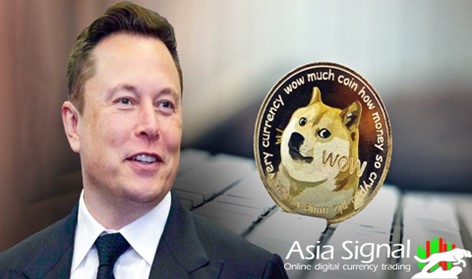 One of Elon Musk signals is in his meeting with Twitter employees, Elon Musk confirmed that the option to pay with digital currencies is one of the features that can be used on Twitter. According to him, it makes sense to integrate payments with Twitter to facilitate the movement of money. For this purpose, both normal currencies and digital currencies can be used.
Apart from the topic of payments with digital currencies, Musk also talked about his plan to eliminate digital currency scams on this social network.
Elon Musk, the CEO of Tesla and the richest person in the world, has been chosen by Time magazine as "Person of the Year" 2021; Musk talked about Bitcoin (BTC) and Dogecoin (DOGE) digital currencies during an interview with the magazine published on Monday.
The CEO of Tesla then said that Bitcoin is unsuitable for payment because the transaction volume of Bitcoin is low and the cost per transaction is high.
The head of Tesla has long been a fan of Dogecoin. He is even known as the Doge father in the crypto community and has previously revealed that he has personally invested in Dogecoin, Bitcoin, and Ether.
Elon Musk shared a photo of a dog on Twitter with 60 million followers, and since this dog was a Shiba Inu breed, it was considered a positive signal for some meme coins.
This action of the CEO of Tesla did not have much effect on the price of Dogecoin and this currency only grew by 5%, but the digital currency Floki Inu, which is a sub-branch of Dogecoin, grew by almost 100% after this signal.
Elon Musk wrote on his Twitter: Floki has arrived.
Floki Inu digital currency was created after Elon Musk announced that his Shiba Inu dog is called Floki, and now the photo of this dog on Twitter has caused a 100% growth of this currency. Floki digital currency is currently only available in decentralized exchanges such as Uniswap and Pancakeswap, but the management team of this project said that it plans to get a trading license for this currency from centralized exchanges.
A few months ago, Musk tweeted that he was going to buy a Shiba Inu dog, and this tweet injected a lot of excitement into Dogecoin and its subsets. Also, Musk always declares that Dogecoin is a people's coin and supports Dogecoin's payment currency.
Conclusion:
Tesla and SpaceX CEO Elon Musk warned about the national debt, and government spending and tweeted about the benefits of cryptocurrencies in solving this problem. He also warned against a proposed tax on unrealized investment gains aimed at billionaires. It's been almost a year since Elon Musk predicted a future Bitcoin price near $69,000 in a tweet. In those days (July 4, 2021), Elon Musk's tweets had a great impact on the price of BTC, and in the same way, he made the market his entertainment many times.
At several stages, the users themselves had meaningful impressions of his tweets, which later, with a little thought, it became clear that Elon Musk meant something else. Among them, we can mention the string of numbers that many thought would be the future prices of Bitcoin digital currency.

But then it became clear that he spoke in code and if we put these numbers in the HEX to ASCII converter, the expression Haha True is obtained.
Of course, sometime later, Elon Musk started tweeting more about Dogecoin and stopped talking about Bitcoin. Currently (June 24, 1401), it can be said that Elon Musk has not tweeted about Bitcoin since a long time ago, and is more involved in the contract to buy Twitter and use Dogecoin in Tesla.
All in all, Elon musk signal helps the cryptocurrency world to improve, you can check the crypto signal to gain more information about the crypto signal, and also you can be our crypto VIP member, and use Asia signal information about crypto signals.