In this article, we will introduce Huobi Exchange, a digital currency exchange that has high-level security features and countless possibilities for trading cryptocurrencies. In the world of digital currencies, time is fleeting. A week feels like a month and a month feels like a year. But in the meantime, digital currency exchanges have also made good progress and now their number is no longer the size of fingers. One of these exchanges that we have heard positive news about in recent months is the Huobi digital currency exchange.
Hubei Global is a Singaporean digital currency exchange that was launched in 2013, because of the increasing adoption of blockchain and digital currencies by the general public, as well as the need to have platforms that allow users to trade various cryptocurrencies and tokens. Huobi means "currency" in Mandarin.
Huobi exchange is among the 10 best digital currency exchanges in the world in terms of volume of transactions, but Iranian users did not use this exchange because of the use of the world's largest exchange, Binance. But after authentication became mandatory in Binance, many Iranian users turned to using the Huobi exchange. In this article, we examine the Huobi cryptocurrency exchange to see if this cryptocurrency exchange is suitable for Iranian users and whether Iranians can operate on Huobi without authentication. In this article, Asiasignal experts are going to give a full introduction to the Huobi exchange you can also check the crypto VIP signal to join the Asiasignal family.
Review of Huobi exchange for Iranian users
Huobi Pro is a centralized exchange located in Singapore according to some sources and in Seychelles. The exchange bills itself as a "digital asset exchange" rather than a "cryptocurrency exchange". Huobi has established representative offices in Japan, South Korea, America, and Hong Kong. Huobi Pro has also launched its token called HT on the Ethereum blockchain, which is used to discount the exchange's fees and vote for the listing of new tokens on the HADAX platform. This token was not sold through ICO; But in the first 14 days after launch, $300 million worth of HT was sold.
Huobi Exchange's core team members are Leon Li, Founder and CEO, Du Jun, Co-Founder, Simon Wu, Chief Security Officer, and Roy Zhu, Chief Technology Officer. All these people have a lot of experience in the fields of blockchain, cyber security, the internet, and management.
Although Huobi is located in Singapore and is not affected by US laws, this exchange should be used with caution as many countries (along with the US) are looking to regulate cryptocurrencies and crypto exchanges. Of course, lawmakers have no problem with buying and selling digital currencies; But they have serious problems with futures transactions, margin, derivative transactions, lending (cryptocurrency lending), and such services.
If you are one of the cryptocurrency traders, you can easily convert your digital currencies to each other using the Huobi exchange. Hubei Exchange claims millions of users from more than 130 countries on its website and uses this platform monthly to trade cryptocurrency. According to the Coinmarketcap site, the volume of daily transactions on this platform has reached 3.1 million dollars, and now Huobi is the second largest digital currency exchange in the world after Binance. Liquidity is another important point for any exchange. In this regard, Huobi ranks second with average liquidity of 554 after the Omgfin exchange.
Huobi exchange services
Huobi exchange services are diverse in the field of digital currencies, and in terms of the variety of services, it is one of the most important exchanges in the cryptocurrency industry. In this section, Asiasignal experts introduce the services of the Huobi exchange.
Huobi wallet
Huobi offers a dedicated wallet for all the coins and tokens it supports for trading. Each user will have their own wallet and the public wallet address is also unique.
The features of this wallet include:
Because users manage their own private keys, users have complete control over their assets.
We have obtained several patents for data security such as security isolation and data encryption.
Multi-signature support, multiple people jointly manage digital assets.
The professional and stylish user interface in Huobi Wallet:
You should know that the latest version of Huobi Wallet has a more professional user interface design that provides a great experience for the app user. After opening the app, the user can browse the assets. and make fast transfer payments on the home page. Users can add their favorite coins already included in the app in addition to the top eight coins (BTC, ETH, EOS, TRX, USDT, etc.). Huobi wallet supports searching for all ERC20 tokens. So that asset management is comprehensive and convenient.
Security
Huobi Wallet users only have control over their private keys and thus have full control over their assets. No third party is involved in private key management. In wallet management backup, users can export private keys. and manage the security of their assets. They can also change the name of the wallet. Hide the wallet and other settings according to your personal settings. User experience is an intimate design for everyone.
Easy to use
Accurate design, simple focus, value circulation. The pursuit of excellence. The Huobi Wallet team strives to move forward to provide quality and professional digital asset management services.
How to exchange on Huobi wallet:
Launch the Huobi Wallet app on your smartphone. And open the "Exchange" section designed by Changely;
Select the desired asset pair for exchange. and enter the starting asset amount (we used the ETH-BTC model).
Check the estimated rate and fee, then tap the "Exchange" button;
before pressing the "Confirm for exchange", Do not forget to check and adjust the miner button. When exchanging in Huobi Wallet, the address of the selected assets will be filled in automatically. When you get a reminder box with transaction details, press "Continue", then enter the security code and press the "Confirm" button to start the exchange process.
Note that you don't need to keep the wallet open while your transaction is being verified. And you check the progress every second. You will receive a push notification on your smartphone as soon as the transfer is complete.
Check the number of received coins and congratulations on a successful transaction.
Strengths of Huobi Wallet
Safe and reliable class service.
Six years of experience in digital asset services.
Decentralized structure and anti-DDOS protection system.
Global environmental plan.
Local business service centers in many countries of the world.
The blockchain ecosystem has the integration of various forms of business.
Huobi app
This digital currency exchange also has an application that can make trading easier for users. This application is available for Windows, Mac, Android, and iOS platforms.
Other Huobi services
The staking service of SOL coin and CSPR token is currently available on Huobi.
Primepool section where you can deposit and lock different cryptocurrencies with different durations and get free tokens with a certain percentage.
In Huobi Earn, you can lock several digital currencies for certain periods and receive an annual percentage of interest from the same currency.
In ETH 2.0, you can stake your ethers in the Ethereum 2 network and receive annual profits.
Crypto Loans also offers you crypto loans. You can borrow the crypto you need by pledging different cryptocurrencies.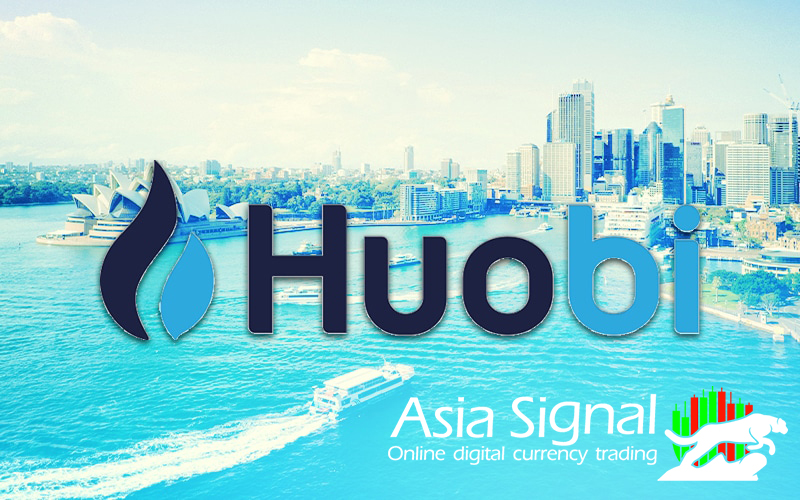 How to use Huobi digital currency exchange?
To create an account, you must first enter the website of this exchange at www.huobi.com. Then click on "Sign Up" from the upper right side of the page. On this page, you can join the Hubei community by phone number or email. Note that this exchange does not support Iran and the United States and you must choose another country. Enter your phone number or email in the next box. In the next two boxes, you must enter your chosen password. Finally, click on the blue "Sign Up" button. Make sure you choose a strong password for your account.
Now you can choose the currency you want to deposit in your account through the "Balances" page and get your wallet address.
To withdraw from the account, you must go to this page, select the desired currency, then enter the desired amount for withdrawal and finally click on the "Withdraw" option. Here you must enter the displayed security codes and finally click on the "Confirm" option.
To trade digital currencies, you must click on the "Exchange" option to be transferred to the "Markets" page. Then you can see the three parts of the price chart, market trades and buy/sell.
How to buy Huobi Token?
To buy Huobi Token from a digital currency exchange, after registration and authentication, follow the following steps in order:
Log in to the user panel
Login to buy a digital currency from the menu on the right side of the panel
Select digital currency "Huobi Token | Huobi Token | HT" from the list of currencies
Enter the Huobi Token wallet address
Choosing the transmission network with the lowest fee (note that your wallet supports the selected network)
Enter the requested amount of Huobi Token or order amount
Click to complete the purchase and check the invoice
Select a bank card to pay the amount of the purchase order and register the discount code if any
Click on payment and enter the online payment portal page
After paying and registering the purchase order of Huobi Token digital currency, you will receive the Huobi Token digital currency in your wallet after a maximum of 5 minutes. Note that before buying Huobi Token, authentication is done only once, and if you want to buy Huobi Token again, you do not need to authenticate again. The transfer of HT to your wallet is done instantly in 24 hours and even on holidays. In addition to the possibility of buying Huobi Token on Asiasignal, more than 1000 other digital currencies are also available. You can see the list of these currencies by referring to buying digital currency.
Huobi Token sales training
Selling Huobi tokens is easy, everything is done and it can be done in less than a few minutes. Follow the steps below to sell Huobi Tokens at an Exchange:
Registration, authentication, and logging in to the user panel
Choosing to sell cryptocurrency from the user menu
Select digital currency "Huobi Token | Huobi Token | HT" from the list of currencies
Copying the Huobi wallet address and transferring the number of ht sales to this wallet
Click "Register and Continue"
Entering the exact amount along with the decimal of the transferred Huobi token
Choose a bank card to settle the amount
Enter your HT wallet address
Click "Register and Continue"
Enter TxId or transaction hash if available and click Verify Transfer
If the transfer and receipt of Huobi Token are confirmed by the exchange system, the invoiced amount will be deposited to the selected bank card within ten minutes to 24 hours.
And you can also check Asiasignal's channel where you can be our VIP member and check the crypto VIP signal to have a profitable exchange on Huobi.
Authentication in Huobi exchange
This exchange has written in its rules that without authentication, it allows us to withdraw up to 1 bitcoin daily; But as we can see in the image below, it is written in the ID Verification section that this value is 0.06 Bitcoin (this is a bit confusing).
To use this exchange without authentication, you must use a VPN with a fixed IP or a VPS, and if you log in with an Iranian IP, it will most likely close your account immediately (although some users say that it allows you to Withdraw your assets, but to be sure, don't log in to Huobi exchange with an Iranian IP).
Is Huobi Exchange suitable for Iranian users?
To find out whether Iranian users can use the Huobi exchange, we must read the rules of this exchange.
The Huobi exchange included Iran among the countries under sanctions and it is not possible to authenticate with Iranian documents in this exchange.
Huobi exchange does not provide any service to Iranian users; But by observing some points like using a VPN with a fixed IP or VPS, you can use services such as spot and P2P markets that do not require authentication, in a very limited way (withdraw up to 0.06 bitcoins per day) and in the futures market this the exchange cannot be used without authentication.
Alternative to Huobi exchange for Iranian users
Since it is not possible for Iranian users to trade in the futures market of the Huobi exchange, decentralized exchanges such as DYDX can be used as a safe and secure alternative to this exchange. This exchange is completely decentralized and there is no need to authenticate and provide identity information to use it. People can easily do their transactions in this exchange using a digital currency wallet like Metamask. Of course, you should be careful that you can only use this DEX until November 1, 2021 (November 10, 1400), and after that, layer 1 of this exchange, which is known as Solo, includes margin markets, futures, permanent contracts, and borrowing. They become Close Only and this dex recommends that people withdraw their assets by that date.
The reason for this is that this exchange needs a lot of bandwidth to continue serving users, and if it continues its first layer activity, it will not be able to operate with the current bandwidth; Continuing to offer side products reduces the user experience of dYdX and destroys the main focus of this platform (derivatives trading).
Of course, dYdX has announced that it will use Starkware's second layer solution to provide its services; But the type of service and the launch time of this second layer solution has not been announced.
Many users in Iran have gone to other centralized digital currency exchanges after the Binance exchange. Although these types of exchanges are an important part of the digital currency market, it should be noted that cryptocurrency exchanges are not a good option for the long-term storage of cryptocurrencies.
Huobi Token (HT) currency future and price prediction in 2022
The chart below shows that Huobi (HT) has performed bullishly over the past few days. If this trend continues, HT may move with the bulls and rise.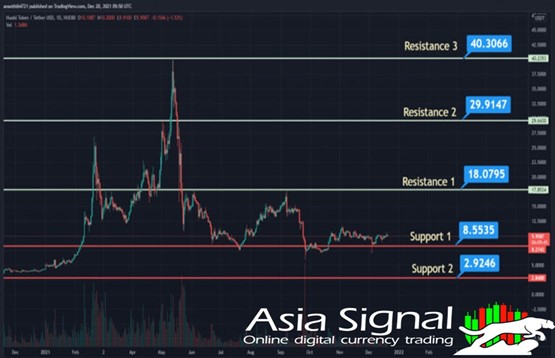 Conversely, if investors turn to cryptocurrencies, bulls may take over HT from its downtrend position. In simple terms, HT price may fall to $8.55 which is a bearish signal.
Meanwhile, our 2022 long-term HT price forecast and Hobby Token (HT) currency future are bullish. It is likely to surpass the current high (ATH) of around $39.81 this year. However, this will only happen if it breaks through many past psychological resistances.
Huobi Token (HT) currency future and price prediction in 2023
Huobi Token (HT) currency futures will reach $75 by the end of 2023 if this upward trend continues. Moreover, the first half of 2023 will show rapid growth to $80. Growth will then slow, but no major fall is expected. Going forward, contributions and improvements to $75 are quite optimistic in terms of price but are undoubtedly possible in the near future.
Fundamental analysis of Huobi token
Regarding the fundamental analysis of this token, there is not much information, because its main purpose and use are clear. Only two points of its market value and its main competitors should be addressed:
The market value of the Huobi token
The market value of the Huobi token is more than 3 billion dollars and, in this respect, it ranks 42nd among digital currencies. Looking at the trend of the market value of this token, it is clear that it has been growing significantly for several months and a lot of money has entered this token.
Competitors of Huobi Token
Since this token belongs to the Huobi exchange, the main competitors of HT tokens will be tokens related to exchanges such as Binance Coin (BNB). It seems that this token has not been able to compete with Binance Coin, and on the other hand, it has suffered many threats from decentralized exchanges such as UtiSwap (UNI) and Cake (CAKE).
Spot market
One of the basic services for all digital currency exchanges is to provide the cryptocurrency spot market. Hubei exchange also offers a spot market for many digital currency pairs. Of course, it should be mentioned that even though the spot is one of the most important and main services of exchanges, some exchanges do not offer this. You can check Binance Spot Trading Signals on the Asiasignal site for more information.
Advantages and disadvantages of Huobi digital currency exchange
Advantages
An admirable platform for trading
Support for more than 100 coins and tokens
High-level cyber security
Powerful customer support
Disadvantages
Lack of support for balance and withdrawal from the account in fiat currency
Relatively longer registration process than competitors
Conclusion
In this article which is written by Asiasignal experts, we talk about Huobi currency. Huobi is a cryptocurrency exchange with an easy-to-use interface, but in order to use and trade cryptocurrencies, you need to register first. In addition, Huobi's app has also been developed for computers and mobile phones, which you can use for easy transactions on the go.
Huobi digital currency exchange focuses on the security of users, and with various security layers, it can be counted as a safe platform. This exchange uses offline storage and a multi-layered verification process.
All in all, it doesn't matter whether you are a new user in the world of cryptocurrencies or a professional trader, Huobi Exchange can handle your needs well and is perfect for exchanging, selling, and buying Bitcoin and other digital currencies, as well as keeping your cryptocurrencies as a wallet, you can open a special account on this exchange. Hubei is now the second largest virtual currency exchange after Binance.
Huobi exchange is one of the famous centralized exchanges in the cryptocurrency market, which, according to Coinmarketcap, is among the 10 largest exchanges in the market in terms of daily transaction volume. Of course, there is conflicting evidence about the location of this exchange, which is a bit worrying issue. In this article, we fully introduced the tools, rules and regulations, registration, and authentication conditions in the Huobi exchange. Also, looking for an answer to the question of whether the Huobi exchange is suitable for Iranian users or not, as we say this exchange has announced that Iran is among the countries under sanctions and Iranian users cannot authenticate and operate in this exchange with Iranian identity documents; Of course, without doing authentication and using VPNs with fixed IP or VPS, you can use the services of this exchange in a very limited way.
You can future signal on Asia signal website to check weather its profitable to use Huobi or not.