Players and investors alike have taken notice of crypto games since the beginning of 2021. As a result, the value of each token is increasing considerably. AXS is one of the most talked-about tokens on the platform, despite the platform's growing user base and revenues. As a paradigm for games where players can make money by playing, it is based on the idea of "Play-To-Earn." Moreover, this game can be played by people who do not know about blockchain technology.
The AXS token
Infinity Shard is the acronym for Axie Infinity Shard (AXS). Axies are built on the Ethereum Blockchain and have a maximum quantity of 270,000,000 AXS. Axie Infinity's platform was actually the inspiration for AXS. A fighting game based on Pokémon, Axie Infinity allows players to breed and train their Axies to compete against other players. Players must consider the character's race and rank when breeding their Axies to have the best chance of creating powerful offspring. Players can also trade their islands and other stuff in this game for Axies on the NFT marketplace.
At least three Axies are required to participate in Arena Mode in Axie Infinity, a fighting game mode in which players are able to compete against each other for glory.
Owners of AXS tokens will be able to participate in the game's development by casting a vote, staking tokens to get regular payments, and using AXS currencies to pay for any products on the platform, such as buying Axies on the Marketplace. Axie Infinity's platform's expansion is a key factor in the significant rise of AXS tokens.
Axie Infinity is well-funded
Axie Infinity's track record of successfully raising capital may also entice crypto investors.
The startup raised $7.5 million in its first fundraising round in May 2021, with notable investors like Reddit co-founder Alexis Ohan and entrepreneur Mark Cuban on board.
Andreessen Horowitz, a reputable Silicon Valley venture capital firm, spearheaded the company's $152 million Series B fundraising round, which closed earlier this month. Sky Mavis's newest round of financing has valued the company at $3 billion.
Any small, fast-growing company like Sky Mavis needs money to keep growing, and the firm's recent influx means that it should be able to keep up with its expansion aspirations.
What makes the AXS token so intriguing?
Investing in crypto gaming tokens has risen significantly due to the growing interest in NFTs, which helps investors better comprehend this type of asset. In addition, Axie Infinity has a good chance of succeeding because the platform's profits and user base are increasing.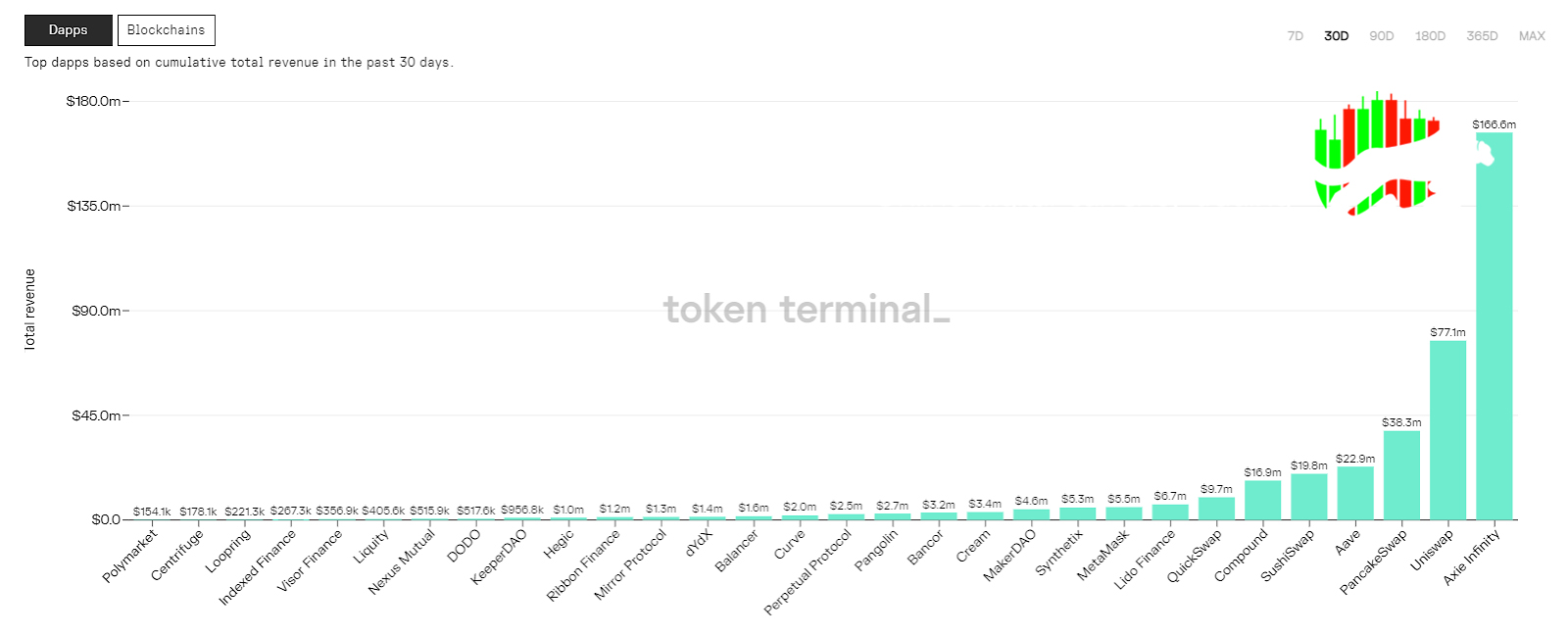 Dapps' entire revenue
Dapps' entire revenue is shown in the following table. Token terminal gathered the above data.
On 30 July 2021, the figure above shows the total revenue generated by Dapps on each platform. According to the study, the Axie Infinity platform generated the highest overall revenue of $166.6 million in the last 30 days.
According to Intotheblock, on July 29, 2021, there were roughly 23,900 addresses on the Axie Infinity platform. Addresses rose by 340 percent from early 2021 to around 5,400. This shows that gamers are interested in this game's platform.
Axie Infinity's announcement on July 15, 2021, allowing users to submit a proposal for the event Axie Esports 2021, may also be a factor in the growing number of users. With the goal of gaining international recognition for the platform, this event is scheduled for August-November 2021. Participation in the event will be rewarded with 5,000 AXS coins worth $145,450 (approximately 4.5 million Japanese yen). As a result, more investigation is required to see if this affects the growing number of gamers.
However, it is worth noting that the value of the gaming market continues to expand in value. It's estimated that in 2023, the worldwide gaming market would bring in $ 2046 million, according to Newzoo. The direction of the gaming market is interesting. What would happen if blockchain technology were applied in this market?
In a nutshell, AXS is an Axie Infinity token that may be used on the platform. You can use your AXS tokens to vote, stake, and pay for any product that you want, as long as you have the token. While this AXS is fascinating because of the number of users and overall revenues, the platform is expected to increase.
How Many AXS Coins Are Out There?
The total quantity of Axie Infinity (AXS) tokens is 270 million. As of mid-November 2020, there were around 53.5 million tokens in circulation.
In summary, Binance Launchpad IEO participants received 11% of the total supply, and private sale participants received 4% of the whole supply. As well as this, 29% of the total is designated for stake incentives, 21% for the player to earn a pool, 22% for the team, 7% for advisers, and 8% for the ecosystem funding.
Binance Research estimates that by early 2026, all AXS tokens will be in circulation, based on the current release timetable.
Axie Infinity network is protected by what?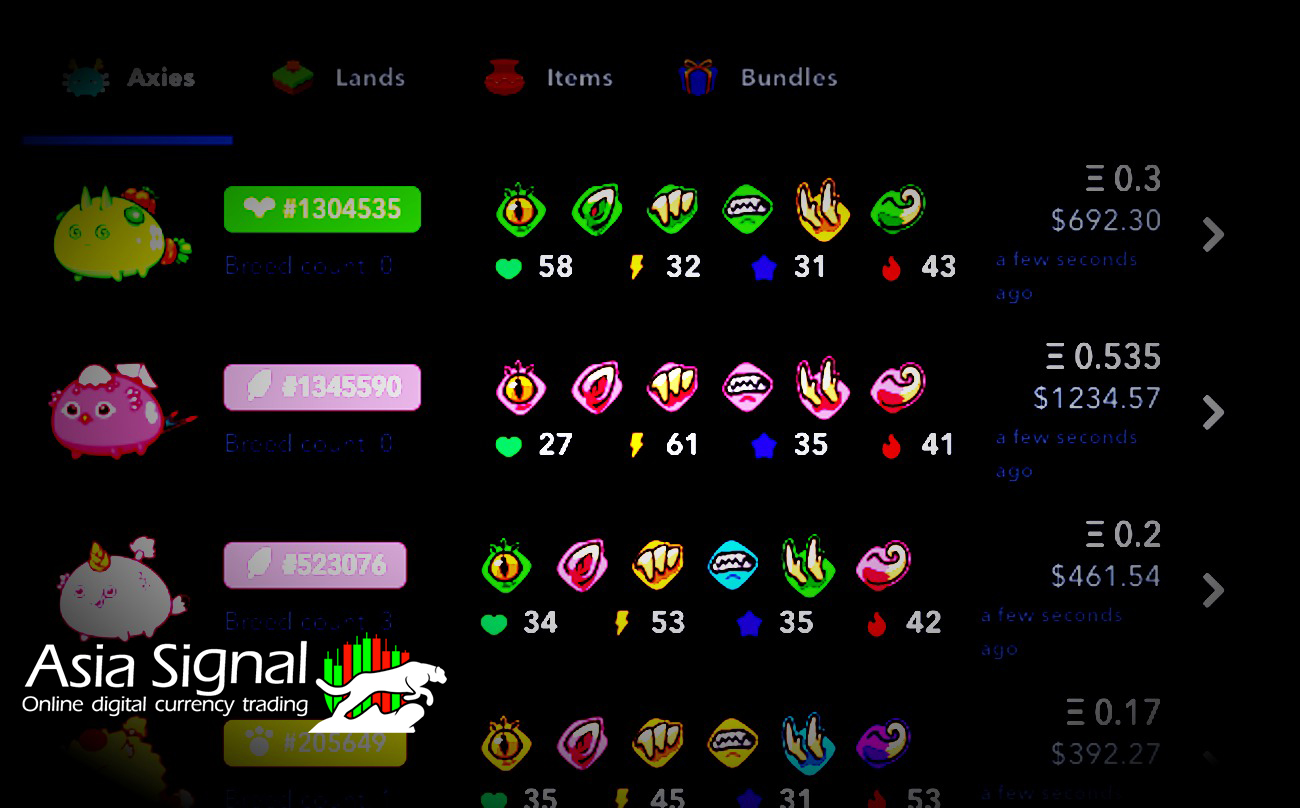 Axies
ERC-20-coin Axie Infinity (AXS) was launched on the Ethereum network. With Ethereum's Proof of Work (POW) consensus system, it is protected.
Tokens like Axies, Land, and other in-game items will be transferred from the Loom Network to a custom-built Ethereum sidechain called Ronin in early 2021.
One of Axie Infinity's application-specific sidechains, Ronin. As the developer of Axie Infinity, Sky Mavis, is working on a blockchain platform that can support practically quick transaction confirmations, decreased gas fees, and the scaling of the game.
Where to buy Axie Infinity?
Coins such as AXS are exchanged on several cryptocurrency exchanges, but they cannot be purchased with fiat money because they are digital assets. You may easily purchase this coin as long as you have Bitcoin, Ethereum, or USDT in your wallet and transfer it to an exchange like Binance that sells this particular cryptocurrency.
Before you invest, keep this in mind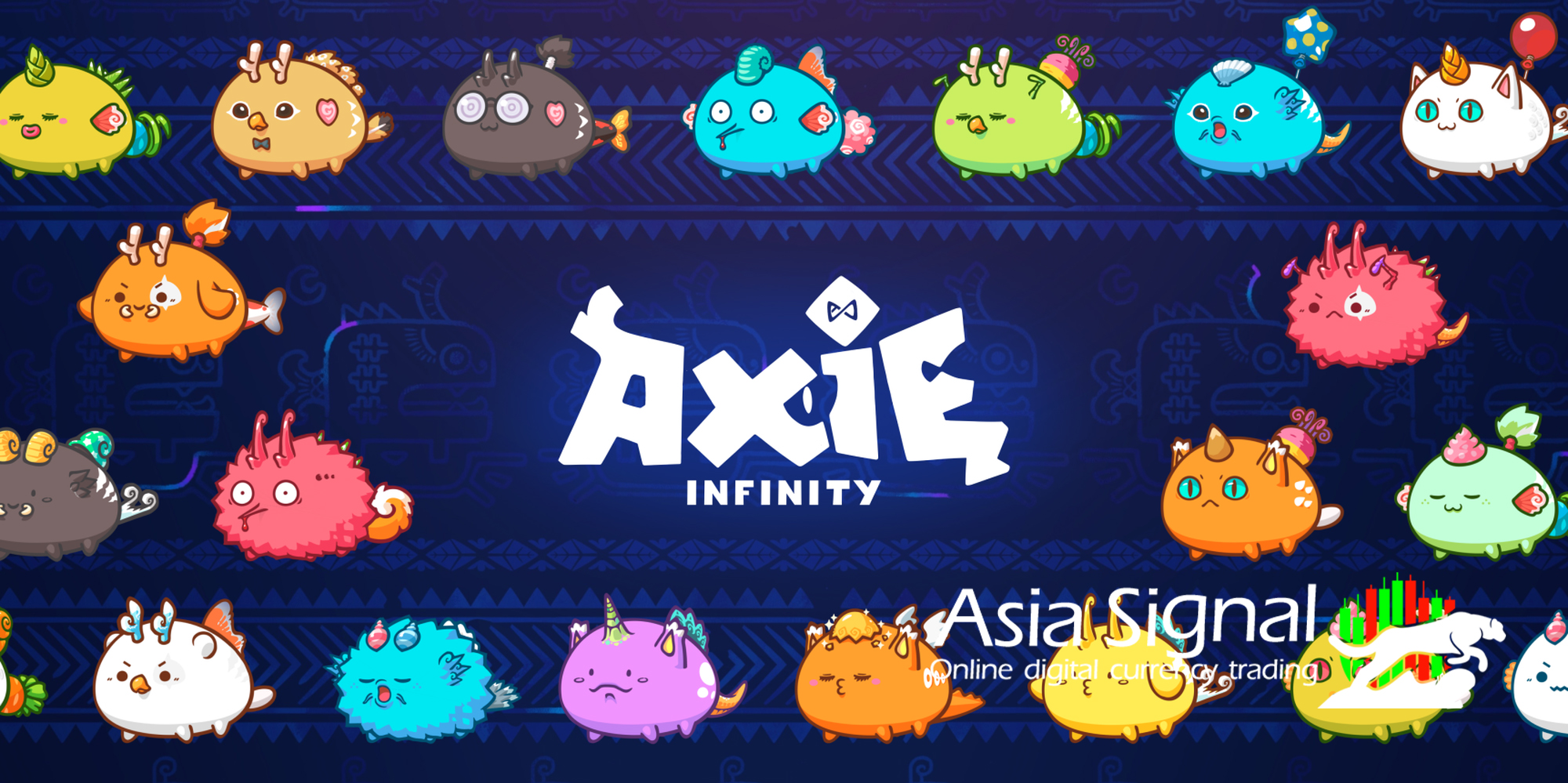 Axie Infinity is still at early stages
Even though Axie Infinity is a legitimately intriguing cryptocurrency choice at the moment, investors should remember that investing in any coin at this time comes with a substantial amount of risk.
There is a propensity for valuations to be quite volatile, and they may rise and fall even when there is no fresh information to take into consideration. There has been a lot of volatility in AXS currencies in the past, and it is possible that this will happen again.
Suppose the demand for Axie NFTs, the company's token, Axie Infinity, declines, the token's value could be jeopardized. Investors' interest in the company's AXS coins may decrease if collectors shift their attention to other non-financial tokens (NFTs).
If you want to start trading AXS tokens, we can help you by providing actual and guaranteed signals for these tokens so that you will be able to start your trading successfully and enjoy hefty profits on these tokens! We can also help you to gain futures signals and cryptocurrency signals for other tokens.